Stop Think Choose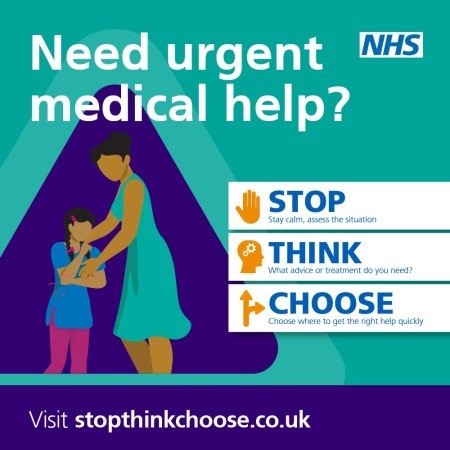 Get the right treatment when you need it
Knowing the right place to go can help you get the treatment you need faster. Please choose wisely and help us help you. 
You may not always need to see a GP, receptionists will be able to guide you to access the most appropriate healthcare professional
Please be kind to our staff who are working very hard for you.       
NHS services are very busy at the moment. It's important to come forward with any health concerns but you can help ease the pressure by choosing the right service. 
Accident and emergency (A&E) departments are currently extremely busy treating high numbers of patients.                                                                            This service is for those who need it most – like people with severe chest pains, serious head injuries, loss of consciousness or breathing difficulties.         
Please help us to protect emergency departments by using an alternative service if you have a less serious condition.
Waiting for hospital treatments—please contact hospitals directly to check waiting times www.kentandmedway.icb.nhs.uk/your-health/local-services/hospital-waiting-times  
Download the NHS app to access a range of services from your phone or tablet. 
You can find waiting times for urgent treatment centres on the WaitLess app. Download it free from the Apple App Store and Google Play.
More than 41,000 people did not attend their appointments in June 2023. We would urge anyone who can no longer attend any appointment to cancel them. This allows the practice to use the time to see other patients in need.
We are reminding patients to cancel their appointment if they can no longer attend to allow the practice to use the time to see others in need.     If you need to cancel your appointment please call us on 01227 208556 and select option 2.

Northgate Medical Practice has a significant number of military veterans registered with us.  We are conscious that some military veterans might be affected by the 20th anniversary of the Iraq conflict. If you have been affected by this, help is available as the surgery is proud to be accredited as a veteran friendly practice by the Royal College of GPs. Help is also available via Op Courage, the veterans' mental health and wellbeing service http://bit.ly/3n9u3td"
Econsult can be used for - Requesting repeat medication, Change your contact information aswell as requesting GP advice or an an appointment.
Other Rooms